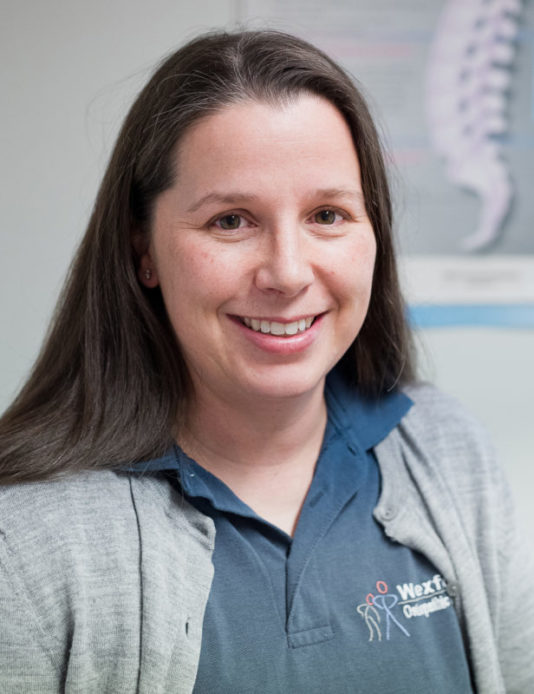 Kylie Peters, B.App.Sc(Clin.Sc), B.Ost.Sc
COVID-19 UPDATES:
DO YOU NEED ONLINE ADVICE/GUIDANCE FROM KYLIE??………
IF YOU WISH TO CONTACT KYLIE DIRECTLY REGARDING YOUR TREATMENT, FOR SOME ADVICE/GUIDANCE, YOU CAN EMAIL HER ON kylieposteopath@gmail.com
Member Osteopathic Council of Ireland & Australian Osteopathic Association
Kylie qualified as an osteopath in 2000 from RMIT University in Melbourne, Australia. she graduated with a degree in Applied Science(Clinical Science) and a degree in osteopathic Science.
After graduation Kylie practiced in her home town, Bendigo, before moving to Ireland in 2003.  She has been practicing as an associate of Phillip Jeffares and at Wexford Osteopathic Centre since moving to Ireland.
Kylie enjoys treating people of all ages from newborns through to older adults. She is particularly interested in treatment for pregnant and postpartum women and children. She has completed numerous post–graduate studies relating to osteopathic treatment in pregnancy, cranial osteopathy, and pediatric osteopathy.  In 2013 Kylie completed a Diploma of Paediatric Osteopathy.
Kylie uses a broad range of osteopathic techniques including, but not limited to cranial osteopathy, soft tissue massage, myofascial release, muscle energy techniques, and gentle manipulation. She is a caring and motivated osteopath, tailoring treatments to suit each patient.